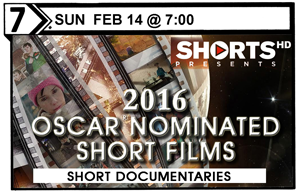 7. Sun Feb 14 – THE 2016 OSCAR NOMINEES FOR BEST SHORT DOCUMENTARY –

BODY TEAM 12 - 13 Min.
BODY TEAM 12 is tasked with collecting the victims at the height of the Ebola outbreak. These body collectors have arguably the most dangerous and gruesome job in the world. Yet despite the strain they emerge as heroes while the film explores their philosophy and strength. The story is told on the ground in Monrovia, Liberia through the eyes of the only female member of the team, who reveals the heartbreaking, lifesaving work of removing bodies from loved ones in order to halt transmission of the disease.

CHAU, BEYOND THE LINES - 34 Min.
Chau, a teenager growing up in a Vietnamese care center for children disabled by Agent Orange, battles with the reality of his dream to one day become a professional artist.

CLAUDE LANZMANN: SPECTRES OF THE SHOAH - 40 Min.
Claude Lanzmann: Spectres of the Shoah is a 2015 documentary short film exploring the life and work of French director Claude Lanzmann. The film was written, directed, and produced by British filmmaker and journalist Adam Benzine.

A GIRL IN THE RIVER - 40 Min.
More than a 1000 women are killed in the name of 'honor' in Pakistan every year. 'A Girl in the River: The Price of Forgiveness' follows the story of a rare survivor who falls in love and lives to tell the tale.

LAST DAY OF FREEDOM - 32 Min.
When Bill Babbitt realizes his brother Manny has committed a crime he agonizes over his decision; should he call the police? Last Day of Freedom is a richly animated personal narrative that tells the story of Bill's decision to stand by his brother, a Veteran returning from war, as he faces criminal charges, racism, and ultimately the death penalty. This film is a portrait of a man at the nexus of the most pressing social issues of our day; veterans' care, mental health access and criminal justice.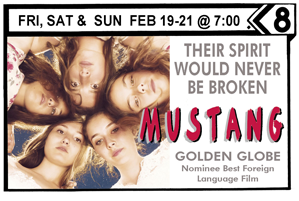 8. Fri, Sat & Sun – MUSTANG – 1 hr 37 min – PG-13 – In Turkish with English subtitles. Early summer in a village in rural Northern Turkey. Five free-spirited teenaged sisters splash about on the beach with their male classmates. Though their games are merely innocent fun, a neighbor passes by and reports what she considers to be illicit behavior to the girls' family. The family overreacts, removing all "instruments of corruption," like cell phones and computers, and essentially imprisoning the girls, subjecting them to endless lessons in housework in preparation for them to become brides. As the eldest sisters are married off, the younger ones bond together to avoid the same fate. The fierce love between them empowers them to rebel and chase a future where they can determine their own lives in Deniz Gamze Ergüven's directorial debut. Critics Consensus: Mustang delivers a bracing and thoroughly timely message whose power is further bolstered by the efforts of a stellar ensemble cast. Golden Globe Nominee – Best Foreign Language Film. Watch Trailer