NEVADA THEATRE FILM SERIES
401 Broad Street
Nevada City, CA 95959

Call (530) 477-9000 for info about the movies
ADMISSION:
Adult: $8.00
Children 12 & Under: $7.00
Seniors (62+): $7.00


View Larger Map
Within the auditorium of California's longest running theatre (built in 1865), we are proud to host a variety of foreign and independent films, documentaries and the unusual. Films run every Sunday evening and many weekends.


Click Here for a printable 8.5" & 11" PDF of our Nevada Theatre Film Series Flyer

Don't have Adobe Reader on your computer? Click Here to download
---
Scroll down to the bottom for a special message from film programmer Mike Getz.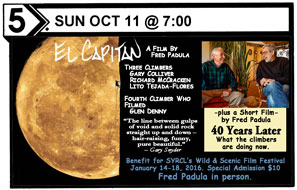 5. Sun Oct 11 – EL CAPITAN – 1 hr. Widely regarded as one of the best climbing films ever made, El Capitan has been unavailable for years. The original 16 mm film, faded and scratched over 40 years, was no longer good enough to show and to share… But a major digital restoration effort has resulted in a "new" version—not merely as good as the original film—but much better. Over 86,000 frames, one frame at a time, had to be digitally cleaned and repaired. Now you can experience this spectacular film on the big screen. Originally filmed in 1968 when climbing Yosemite Valley's 3,000-foot wall was in its infancy, finally finished ten years later in 1978, El Capitan has become a classic. Tonight's program also includes "40 Years Later," a new short film which features recent interviews with two of the climbers. Filmmaker Fred Padula will be here in person to provide the story of this film's unique and colorful history. Tonight's showing is a benefit for SYRCL's Wild & Scenic Film Festival Jan. 14-18, 2016. Special Admission $10. WATCH TRAILER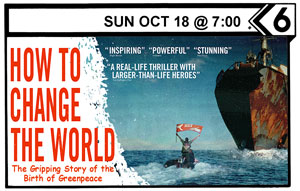 6. Sun Oct 18 – HOW TO CHANGE THE WORLD – 1 hr 50 min - In 1971 a small group of activists set sail from Vancouver, Canada in an old fishing boat. Their mission was to stop Nixon's atomic bomb tests in Amchitka, a tiny island off the west coast of Alaska. It was from these humble but brave beginnings that Greenpeace was born. Chronicling the untold story behind the modern environmental movement and with access to dramatic archive footage that has not been seen for over 40 years, the film tells the fascinating story of eco-hero Robert Hunter and his part in the creation of what we now know as the global organization that is Greenpeace. "This small group of individuals set out to change our awareness of the environment, and it's astonishing what they achieved in a very short space of time." –Jerry Rothwell, director. "The goldmine of 16mm color footage is in mint condition, showing the excitement and fun of the movement in its earliest days." –Dennis Harvey, Variety WATCH TRAILER
.
SPECIAL SHOWING TUES., OCT. 20 - 7:00 PM - Nevada Theatre presented by Nevada County Climate Change Coalition, SYRCL's Wild & Scenic Film Festival Jan.14-18, 2016 and the Nevada Theatre Film Series.
THIS CHANGES EVERYTHING. Join us for this national release for a one-day special event screening of the filmed version of Naomi Klein's best seller of the same name. Naomi Klein has once again pushed issues and ideas into the spotlight and her supporters are heeding the call to action. It's a stunning and shocking look at the real effects of capitalism on climate change and the environment. Filmed in nine countries and five continents over four years, THIS CHANGES EVERYTHING is an epic attempt to re-imagine the vast challenge of climate change. Directed by Avi Lewis and narrated by Naomi Klein, the film presents seven powerful portraits of communities on the front lines, from Montana's Powder River Basin to the Alberta Tar Sands, from the coast of South India to Beijing and beyond. Throughout the film, Klein builds to her most controversial and exciting idea: that we can seize the existential crisis of climate change to transform our failed economic system into something radically better.
WATCH TRAILER .
Buy Tickets for This Changes Everything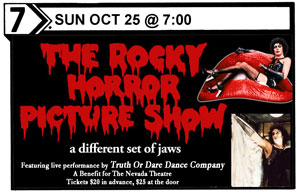 7. Sun Oct 25 – THE ROCKY HORROR PICTURE SHOW – 1 hr 40 min – R. Tonight we celebrate the 40th anniversary of this cult classic and the fact that this is the film that launched the Nevada Theatre Film Series back in January 1979. Sweethearts Brad (Barry Bostwick) and Janet (Susan Sarandon), stuck with a flat tire during a storm, discover the eerie mansion of Dr. Frank-N-Furter (Tim Curry), a flamboyant transvestite scientist. As their innocence is lost, Brad and Janet interact with a houseful of wild characters, including an ex-delivery-boy biker (Meat Loaf) and creepy butler Riff-Raff (Richard O'Brien). Through elaborate dances and rock songs, Frank-N-Furter reveals his latest creation, Rocky Horror. Tonight's show features live performance by Truth or Dare Dance Company and is a benefit for The Nevada Theatre. All tickets are $20. LET'S DO THE TIME WARP AGAIN!! WATCH TRAILER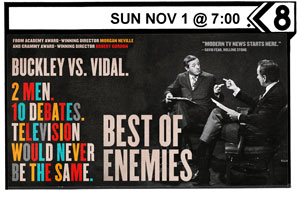 8. Sun Nov 1 – BEST OF ENEMIES – 1 h4 27 min – R. In the summer of 1968, television news changed forever. Dead last in the ratings, ABC hired two towering public intellectuals to debate each other during the Democratic and Republican national conventions. William F. Buckley, Jr. was a leading light of the new conservative movement. A Democrat and cousin to Jackie Onassis, Gore Vidal was a leftist novelist and polemicist. Armed with deep-seated distrust and enmity, Vidal and Buckley believed each other's political ideologies were dangerous for America. With explosive exchanges, they pummeled out policy with personal insults and vicious threats-cementing their opposing political positions. It was unlike anything TV had ever broadcast, and all the more shocking because it was live and unscripted. "There could scarcely be any documentary more enticing, scintillating and downright fascinating than Best of Enemies." –Todd McCarthy, Hollywood Reporter WATCH TRAILER
---
Special Message from Mike Getz, Programmer for the Nevada Theatre Film Series
As I finished selecting the films for the next 8 weeks at the Nevada Theatre Film Series, I realized that, without planning to, I have programmed 7 films that relate to events that took place 40 to 50 years ago. And many of them involve showing footage that has never been seen before. Check this out.

The first film, showing Sunday, Sept. 13 is "A Poem is a Naked Person." This is a feature about Leon Russell, filmed in 1972-1974 by Les Blank. Because Russell didn't like the finished version, he wouldn't allow it to be released. Now, Blank's son has convinced Russell to let it be shown.

The second film, showing Sunday, Sept. 20 is called "Listen To Me Marlon." Turns out Marlon Brando, throughout his acting career, kept tape recordings of his personal observances about his life. As we know, Brando was a mysterious actor who shunned the media and revealed very little about his life. Now, for the first time, we can find out what was going on - in his own words.

The third film, which shows two Sundays, Sept. 27 and Oct. 4, is "Dying To Know," a new documentary about the friendship between two of the most influential and controversial figures from the 60s and 70s, Timothy Leary and Richard Alpert, who became Ram Dass. Though often misunderstood by the Establishment, Leary and Alpert connected with the young people of their time, urging them to explore new ideas and to think for themselves. The film features never before seen interviews with the two men, including the last conversation they had shortly before Leary died. Robert Redford was so moved by the film that he contributed the narration.

The 4th film, which shows Sunday, Oct. 11, is "El Capitan," a classic mountain climbing film, filmed in 1968, finished in 1978, won many awards at international film festivals, was pulled out of circulation because it was damaged so badly it couldn't be shown. Finally after a painstaking digital restoration, it can now be shown on the big screen in all its glory. Filmmaker Fred Padula will be at the showing telling the amazing story behind this film. He'll also be showing a recently made short film which brings us up to date on what the climbers are doing now.

The 5th film, showing Sunday, Oct. 18 is "How To Change The World." Here again it's a story that starts in the early 70s. A small group of activists set sail from Vancouver, Canada in an old fishing boat to stop Nixon's atomic bomb tests in Amchitka, a tiny island off the west coast of Alaska. Not only were they activists, many were aspiring filmmakers, so much of their interaction was caught on film and stored in archives until recently. Now we can see how Greenpeace was born.

The 6th film, showing Sunday, Oct. 25 is The Rocky Horror Picture Show, the only non-documentary in the group, but guess what, this is the 40th anniversary of the initial release of this one of a kind film.

The final film of this series, showing Sunday, Nov. 1 is "Best of Enemies," a documentary about the televised debates during the 1968 Democratic and Republican national conventions between William F. Buckley, Jr. and Gore Vidal.

So there you have it. Seven films to take you back to a time before iPhones and Facebook, to an era that started stirring things up.


---